The Living Library

Last week I was honoured to be the Emcee and presenter at Making, a conference on Asset Based Community Development held in Brantford, Ontario. The 2 and a half days were full of tours, conversation, youth day, art activities and presentations. One of the highlights was the Living Library.
The Living Library consisted of 20 residents from diverse backgrounds from business owners, activists, mothers, artists, members of associations and new residents. They shared their story, passion and how they engage in their neighbourhood. John in the photo has lived in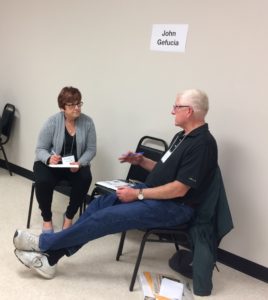 Eagle Place for 55 years and spoke about the sense of place he feels here and how he engages in the neighbourhood. The local library was going to house a book about the event and the residents and their passions.
I left with such inspiration and imagined if I lived here I would have such a sense of pride that so many people from diverse background are working to build a better Brantford.