Hospitality on Bus 50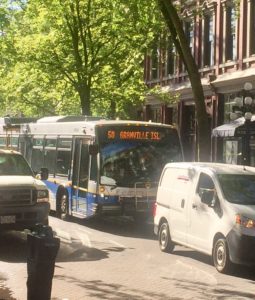 … The driver noticed me sitting down in the seat gingerly and getting my legs positioned just right and asked if i was ok? I said I just had hip surgery but was doing well. He then seemed careful to stop and start at each stop a bit more gradually.
He spoke of the construction in the neighbourhood and said he has been driving a bus
for 32 years! I said that's amazing and he added that he is number 11 in seniority of over 3000 employees. His secret is that he loves his job. The best part is all of the great people he meets.
He is usually the first bus out of the garage at 3:45am. What a nice way to start the morning.