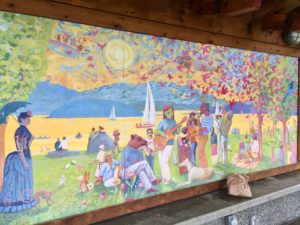 I have been noticing some great community spaces recently. One of the most inspiring was The Porch at Boulevard. I discovered "The Porch" while hiking around Bellingham, WA. It was created by friends of Mark Witter. Mark loved his slow bike rides to work Cascade Joinery. He died unexpectedly in 2004 of a heart attack. The awesome mural grabbed my attention as it is similar to a painting I love at The Chicago Art Institute: "A Sunday on La Grande Jatte".
I learned that Mark was a musician, a family man, a great friend and a devoted community member. His passions included his family, friends, baseball, the blues, and timber framing, which has historic ties to community improvement. His spirit has inspired his friends and co-workers at Cascade Joinery, to create The Porch at Boulevard Park. The Porch is a privately funded outdoor music pavilion inspired by Mark's life and his passions for music (he loved playing harmonica) and timber framing.
It's a gorgeous park with lovely views and this mural is right behind the stage. I was so glad to discover this place and the story behind it.