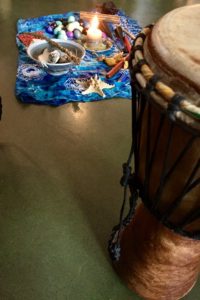 This week I was invited to join a drum circle. Although I had heard of drum circles, I had never had to chance to participate in one. My friend who invited me said that I didn't need to have experience and that it was a welcoming group.
I very much enjoyed my time at the drum circle.
It was surprising to me to experience so many similarities between this drum circle and asset based community organizing.
In both, we need to show up with curiosity,  extending hospitality and being ready to receive the same. It also helps to not overthink things and for us to be attentive to the sounds and gifts being created by those around us.
Several in the drumming group commented that when they did not think about it too much and were present to the music, the drum almost played itself.
I find the same thing happens when we do not overthink the idea of creating more connected communities.  Hospitality and being present to one another creates a safe place to see the contributions of all and see what groups can create together.