For over 125 years, a church has stood at the corner of York and Court Streets in Newport, Kentucky. I was traveling through this neighbourhood and noticed the massive structure entirely made of stone. Driven by my insatiable curiosity, I opened the front door and walked into the empty hallway and saw a sign for the office. I told the welcoming lady there how I admired the stone building and was hoping I might be able to see the inside of the church. She said "sure", just go upstairs and she'd get someone to show me around. Bob joined me on my tour and provided history and many stories including how their stain glass windows don't match.
Each window was added at different times when members came together and each is reflective of the respective eras.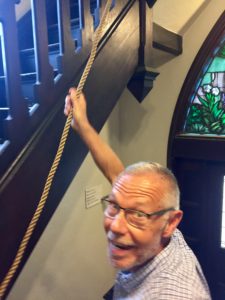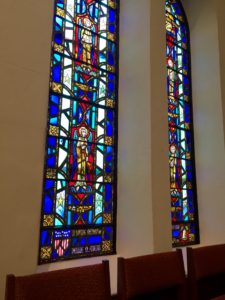 He added the windows also represent the diversity in the neighbourhood and history.
The last window was added in 1942 during World War II and has some deep patriotic colours. These days community is coming together in different ways at St. Paul's.  One of these options is the cooking classes. They also rent out their commercial kitchen to entrepreneurs. I will always remember the story of the young baker who makes quiche that is sold at several neighbourhood coffee shops.  The day that I visited, there was a lady who was baking sweet smelling graduation cookies and cakes.
Every Sunday, the bell still rings for services, the same as it has since 1871.
I felt pretty lucky that after a quick lesson from Bob, I also got a chance to to ring the bell in the towering stone steeple.