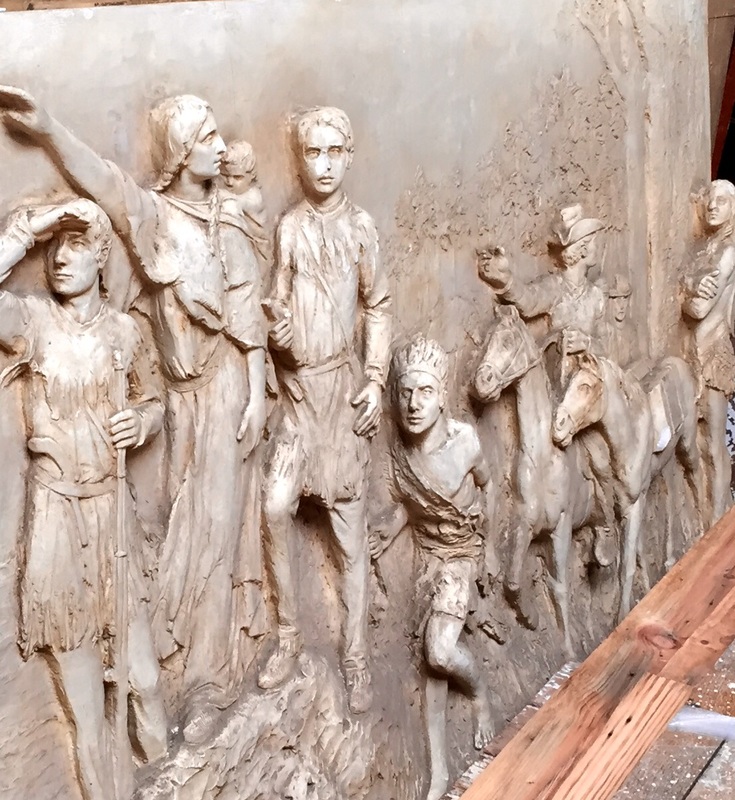 One idea to get to know a neighborhood better is to be a tourist for an afternoon and see what unexpected treasures you discover. In Oshkosh, Wisconsin I was intrigued by the old architecture of the buildings on Main Street. One building had the most unusual assortment of things in its windows. The entrance is through a large sliding door that opens into a mammoth open hall filled with all kinds of vintage materials: doors, old signs, chandeliers, murals, and the list could go on and on.
Even more stunning was the architecture of the building itself. The owner described it as a work in progress. It was a former car dealership back in the day that is now Crescent Moon Antiques and Salvage. Around each corner was something that grabbed my attention such as the giant mural of the Lewis and Clark expedition that made me feel the excitement of discovery. I wanted to stay for hours and dive into the entire place.
Their slogan is, "It's not what you look at that matters, but what you see." They are dedicated to assisting their friends with their thoughts and dreams through the reuse of our non-renewable architectural historic material. This is very similar to community development with gifts as our foundation. The people and their gifts are the non-renewable architectural historic material.
Research has been conducted around an activity called awe walks. These are walks where focus is directed outwards to paying attention to the world around you. Research shows that these walks reduce anxiety and promote improvements in our emotional well-being. These walks are similar to gift conversations and community asset mapping. Your energy and focus is on the people and their gifts, places and the things around you.
We want to see our neighbors, the people we meet, and the places we go with asset-based eyes. This does not discount that we each have needs and deficits and that without a doubt there are problems and challenges in our neighborhoods. It is however a realization that we want to expand our vision to see more broadly and deeply. It is with this asset-based view that we can start to construct relationships and connections.